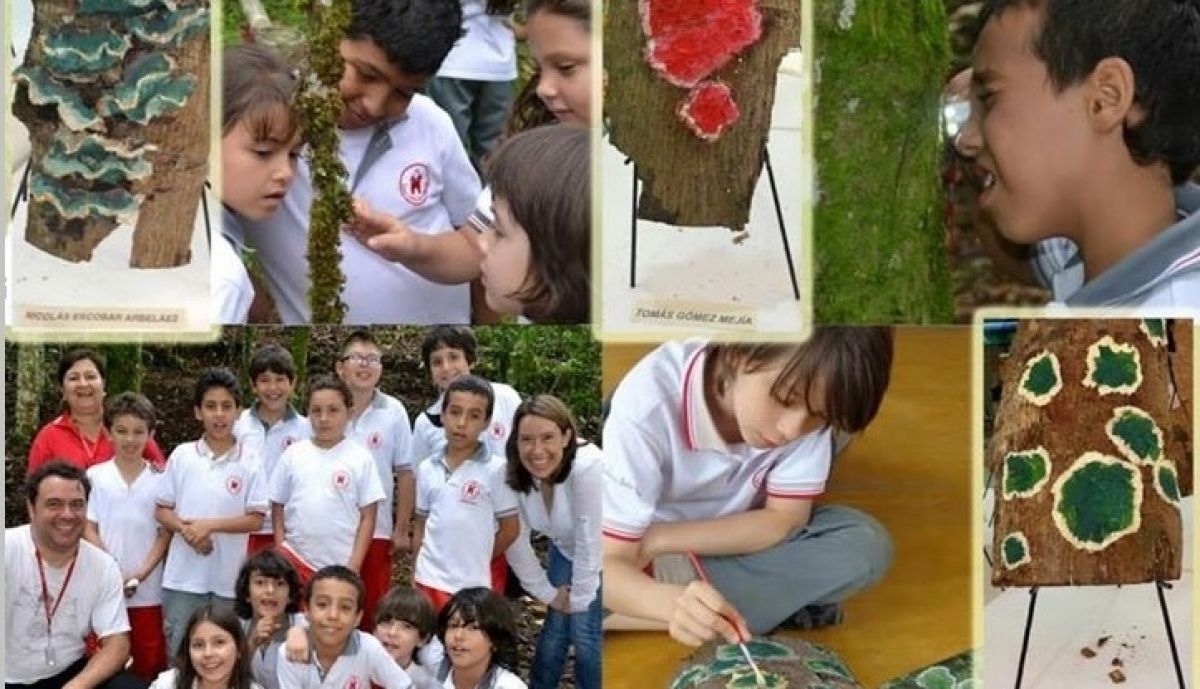 In May of 2013, Adjunct Curator and Collections Manager Robert Lücking (Gantz Family Collections Center) and Field Museum Research Associate Bibiana Moncada (Universidad Distrital Francisco José de Caldas, Bogotá) visited the Liceo Taller San Miguel college in Pereira, Colombia. This integrated elementary and high school is considered a model school in using a unique approach to art and science in their curricula. Beautifully set in a landscape which includes a botanical garden and forest preserve, the students are being immersed hands-on into the scientific approach. Fungi and lichens are among their favorite objects of study!
When coordinator Luz Stella Tisnes invited Robert and Bibiana to give the students, aged 6-11, the opportunity to interact with real scientists, it was a blast for everybody involved. Robert and Bibiana were awestruck by the scientific curiosity and dedication displayed by the students, who later presented their work in the meeting of the Grupo Colombiano de Liquenólogos (GCOL; association of Colombian lichenologists), including a unique approach of how to interpret the script-like fruiting bodies of certain lichens as language.
This past November, the school organized an exhibit where the students displayed beautiful artwork based on real lichens observed in nature, including these by Nicolás, Tomás and Santiago. It?s great example how science and education can go hand in hand to foster public awareness for the biodiversity around us and to plant the seeds to generate outstanding future scientists.
Robert Lücking, PhD
Collections Manager (Fungi) and Adjunct Curator (Lichens)
Chair, Scholarship Committee
Gantz Family Collections Center
Science & Education
The Field Museum
1400 South Lake Shore Drive
Chicago, IL 60605-2496, USA
Phone: 1-312-665-7154
Fax: 1-312-665-7158
---
Fecha: 10 de Diciembre de 2014
Califique esta publicación
---